Last updated on July 22nd, 2019 at 08:17 am
As you know, high-speed and high-horsepower boats are required to perform at maximum capacity. You want your boat to perform at an optimal level, and installing a SeaStar Solutions hydraulic steering system will take your boat to a whole new level of performance. The added increase in performance is well worth the added cost of installing a SeaStar Solutions boat hydraulic steering kit.
SeaStar Solutions Hydraulic Steering Systems Give Your Boat An Advantage
The SeaStar Solutions hydraulic Steering System is engineered to give your boat an extra advantage of steering muscle when it is most needed and the SeaStar Solutions system easily accommodates Inboard, Sterndrive, or Outboard motors in boats as large as 50 feet in length.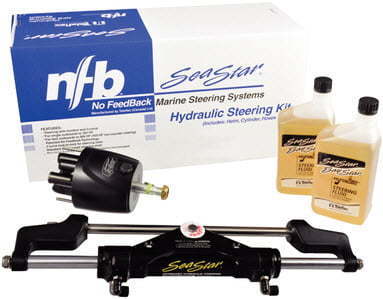 SeaStar Solutions offers simple selection of the system, as well as easy installation and service by utilizing just three major components in their systems. SeaStar Solutions hydraulic steering systems consist of the cylinder, the SeaStar helm, and the hose or tube. SeaStar Solutions offers an extensive range of cylinders that are available and will suit a variety of Inboard, Sterndrive, and Outboard marine steering applications. Boat hydraulic steering systems from SeaStar Solutions are optimal for both commercial and pleasure marine applications. Add-on features such as autopilots and extra steering stations can be easily added to each system.
There are a number of SeaStar Solutions hydraulic steering systems available for sale. Below, we've put together a list of some of the top selling ones.
Watch the video below for even more information, including how to select the proper system for your boat.

Why Choose Sea Star Hydraulic Steering For Boats Over Others
There are several manufacturers who make hydraulic steering for boats kits. SeaStar Solutions is perhaps the most well known, and for several good reasons.
First, SeaStar hydraulic steering for boats kits come with everything you need. They are super easy to install. So simple, in fact, that most DIYers should have no problem installing them.
Next, some hydraulic steering for boats are not all that easy to maintain. However, the Sea Star hydraulic steering for boats systems are very easy to service and maintain.
Last but not least, if you ever have a problem with your hydraulic steering for boats system, you want to know that you can easily find parts. SeaStar hydraulic steering parts are easily found online.
Common SeaStar Hydraulic Steering Parts For Sale Online
Marine hydraulic steering systems are very reliable and, if you perform proper routine maintenance, you should expect a long lifespan. That being said, like with all things mechanical, especially those in or around water, things do sometimes break. SeaStar hydraulic steering parts are not an exception. Luckily, SeaStar hydraulic steering parts are readily available for sale online, and they are very easy to replace in most cases.
We have compiled a list of some of the most common replacement SeaStar hydraulic steering parts. These systems don't use a lot of parts, so identifying and replacing them is quite simple.
If you already have all of the SeaStar hydraulic steering parts that you need, and you only need to replace the cable, be sure to check out our boat steering cable guide.
SeaStar Steering Fluid Replacement
Update: For a more thorough guide on how to bleed and replace your hydraulic steering fluid, check out our post on replacing a SeaStar helm.
SeaStar Solutions naturally states that you should only use SeaStar Steering Fluid in their hydraulic steering systems.
They boast that SeaStar steering fluid is designed and engineered with a combination of additives that is proprietary to their brand. According to the manufacturer, the additives include:
Anti-Rusting and Anti-Foaming Agents
Anti-Oxidants
Corrosion Inhibitors
Viscosity Stabilizers
Water Emulsification Additive
Wear Additives
Using a blend other than the SeaStar steering fluid could potentially permanently damage your steering unit, therefore we recommend sticking with the SeaStar steering fluid. It tends to be a bit on the pricey side, but you can sometimes find it on sale at Amazon.
Watch the following video for ideas on how to do your SeaStar steering fluid replacement, along with other  common maintenance.

When doing your SeaStar steering fluid replacement, remember to dispose of the old fluids in a way which is consistent with local laws and applicable regulations. It's best to find a recycling center near you that will accept the old fluid.
Be sure to check out SeaKnights.com often for more great tips and advice on how to get the most out of your SeaStar Solutions hydraulic steering system.