Are you looking for the SeaStar HC5345 Front Mount Hydraulic Outboard Marine Steering Cylinder?
The SeaStar HC5345 from SeaStar Solutions is the number one selling recreational boat hydraulic steering cylinder for outboard powered boats.
The Front Mount HC5345 Outboard Steering Cylinder is engineered to withstand the tough marine conditions and provides great resistance to constant compression. It features a redesigned, 8-hole new end gland sealing system for better serviceability and has been updated with Positionable Stainless Steel O-Ring (ORB) Fittings which allows for easy hose routing.
The SeaStar Solutions HC5345-3 meets or exceeds NMMA and ABYC standards of certification and is manufactured and designed here in North America. For an automotive-like driving experience with your boat, pair this cylinder with the compatible (PA1200-2) SeaStar Power Assist Pump.
The SeaStar HC5345-3 Steering Cylinder is an ideal pick for offshore fishing boats, runabouts, center console boats, and cruisers.
SeaStar HC5345 Parts Diagram
If you are in the rare situation of needing to make a repair to your cylinder, you likely will need the SeaStar HC5345 Parts Diagram, which we have provided below.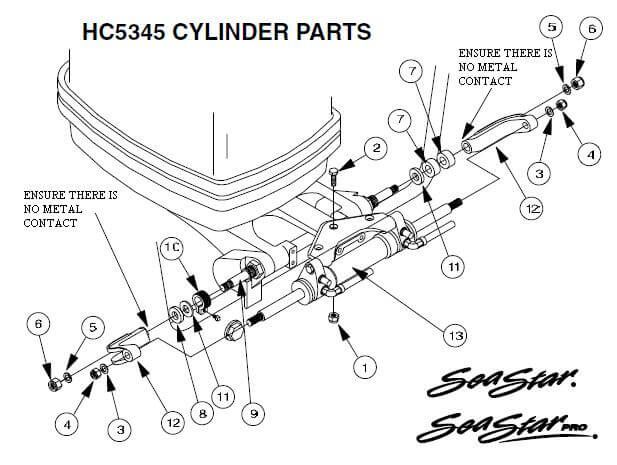 | ITEM | PART NUMBER | QTY | DESCRIPTION |
| --- | --- | --- | --- |
| 1 | 113529 | 1 | Nut 3/8" NF Nylock S.S. |
| 2 | 113222 | 1 | Screw 3/8"x 1-1/4" Hex Head S.S. |
| 3 | 731625 | 2 | Washer 7/16" dia. S.S. |
| 4 | 731720 | 2 | Nut 7/16" NF Nylock S.S. |
| 5 | 202027 | 2 | Washer 1/2" dia. S.S. |
| 6 | 192126 | 2 | Nut 1/2" NF Nylock (nickle plated brass) |
| 7 | 995876 | 2 | Spacer (Thick) |
| 8 | 996689 | 1 | Spacer (Thin) |
| 9 | 730229 | 1 | Support Rod |
| 10 | 729621 | 1 | Adjusting Nut & Screw |
| 11 | 202300 | 2 | Washer 5/8" dia. S.S. |
| 12 | 839120 | 2 | Support Bracket |
| 13 | HC5346 | 1 | Pivot Cylinder Subassembly w/Fittings (previously listed as 828000 |
SeaStar HC5345 Capacity
The SeaStar HC5345 capacity is 8.34 cubic inches. You can verify the SeaStar HC5345 capacity in the SeaStar HC5345 owners manual.
SeaStar HC5345 Seal Kit
The SeaStar HC5345 seal kit from SeaStar Solutions with part number HS5157 or HS5167 is the official OEM replacement front seal kit for SeaStar pivot / front mount cylinders. This is the kit that you need for the SeaStar HC5345 cylinder.
The SeaStar HC5345 seal kit comes with a two year warranty and the following parts:
(2) Seal Glands
Pin Wrench
Seal Gland Assembly Guide Tool
Conclusion
If you are searching for the best front mount hydraulic outboard steering cylinder, then the SeaStar HC5345 if your best bet. When it comes to price, performance, and reliability, SeaStar Solutions is tough to beat. Parts are easy to find, and the two year warranty is a great added bonus.
Last updated on July 22nd, 2019 at 08:27 am
Undoubtedly, the most popular boat hydraulic steering systems for boats powered by outboard motors are made by SeaStar Solutions, which was previously branded as Teleflex. While SeaStar makes very good quality products, sometimes after years of heavy use, the helms of their units may begin to leak. This is where a SeaStar helm seal kit or rebuild kit can help repair the issue.
SeaStar Helm Models
There several different SeaStar helm models to choose from. The four most durable and commonly used models are BayStar Helm HH4314-3, SeaStar Helm HH5271-3, SeaStar Pro Helm HH5770-3, and SeaStar Helm HH6541-3.
| | SeaStar Helm Model | Check Price |
| --- | --- | --- |
| | BayStar Helm HH4314-3 | |
| | SeaStar Helm HH5271-3 | |
| | SeaStar Pro Helm HH5770-3 | |
| | SeaStar Helm HH6541-3 | |
Boat Hydraulic Steering Helm Leaks
If your SeaStar helm begins to leak hydraulic steering fluid from the front seal of the boat's steering-wheel shaft, then you likely will be able to quickly and easily repair it without removing the entire helm. This is so long as the helm unit is installed in the more standardized front-mount configuration, or if it is installed with a back-plate kit, or else installed with a round-bezel kit.
On the other hand, if the SeaStar helm is installed totally behind the boat's dash, then you will need to fully remove the helm to complete this project. But don't worry, this project can easily be handled by most owners. Of course, taking it to a shop is also always an option.
Now, prior to getting started, you will need to order several items. If your pump was made after 1990, then you should order SeaStar Helm Service Kit HP6032. This helm kit comes with a nyloc nut used for the boat steering wheel, a quad ring seal, a new top plate used to cover the seal, and a Woodruff key. After you have replaced the helm, you will also have to purge, or bleed, the lines of air, which requires that you add SeaStar hydraulic fluid to the steering system. The easiest way to do this is to use a filler kit.
Project Skill Level: 1/5
Time To Complete: Approximately 2 hours
Tools and Supplies Needed
* SeaStar Solutions Helm Service Kit HP6032
* SeaStar hydraulic fluid
* SeaStar Steering Fill Kit HA5438
* Torque wrench
* Socket wrench and deep socket set
* Phillips-head screwdriver
* Phillips-head socket (for use with the torque wrench)
* Marine grease
* 4″ steering wheel puller
* Container and old shop rags (to capture spilled hydraulic fluid and to clean)
* Box or open-end wrench set
SeaStar Helm Seal Kit
Several of the items listed above can be conveniently found in a SeaStar helm seal kit. We found this great SeaStar helm seal kit, which comes with the filler hose, to be a great deal. Just be sure to check that this helm seal kit works with your particular helm model.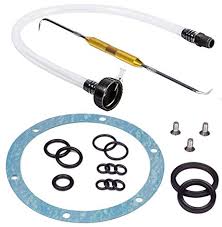 Repair And Replace Leaking Hydraulic Steering Fluid Instructions
Pro Tip: Do not bang on the steering wheel and do not use a punch and hammer on the center of the steering shaft, because doing so will likely damage critical components of the SeaStar helm or the boat's steering wheel.
Step 1: Pull the Steering Wheel
You may likely have to remove the hub plate which conceals the nut which is holding the boat's steering wheel into place. While holding the wheel, loosen and remove the nyloc nut by using a long socket wrench. Often times, due to corrosion, the steering wheel will be very difficult to remove. If you have this problem, use a steering wheel puller like the K-Tool International (model KTI-70304) to remove the steering wheel. Next, remove the Woodruff key that is in the steering shaft.
Step 2: Removing the Old Seal
Remove the three screws which hold the top plate in place with a Phillips screwdriver. Since the service kit does not come with new screws, be sure to save the old screws. When you next remove the top plate and quad ring seal, use a container to catch any hydraulic steering fluid which might drain from the helm. If you have to pry loose the quad ring seal, use a use a small wooden or plastic pick to do so.
Step 3: Installing the New Seal
After you have wiped off the steering shaft with your shop rag, you will need to lightly lubricate the shaft using a little fresh hydraulic steering fluid. Be sure to lightly lubricate the new quad ring seal, as well. Next, slide it into position over the steering shaft at the front of the helm. Be certain that the seal is fully seated in the groove at the face of the helm. When you install the new top plate, be certain that the CE mark is placed exactly at the center of the top. Insert and tighten down the 3 Phillips-head screws that you removed earlier to a torque of 6 to 9 inch-pounds.
Step 4: Reinstalling the Steering Wheel
Using some marine grease, lubricate the steering shaft. Insert the new Woodruff key that came with the kit into the groove in the shaft. Gently turn the steering shaft until the groove is facing upward. Doing so will help so that the Woodruff key doesn't fall out. Now, align Woodruff key with the slot in the wheel hub as you gently slide the steering wheel into position over the steering shaft. Thread the new nyloc nut on slowly. While holding the steering wheel in place, use a torque wrench to slowly tighten the nyloc nut to 150 inch-pounds. You can now install the hub plate on the wheel.
Step 5: Re-Fill and Bleed the Hydraulic Steering System
Once you have the new seal and the steering wheel re-installed, go ahead and remove the cap found on top of the SeaStar helm pump. Now, utilizing the SeaStar filler kit, add one quart of SeaStar hydraulic fluid to fill the steering system. For this next part, you will need the assistance of a buddy in order to properly bleed the hydraulic system of air; one of you should be near the helm while the other one should be at the hydraulic steering cylinder found back near the boat motor with a wrench in order to open and close the system bleeder valves. Simply follow these steps:
Turn the boat wheel hard to the starboard side.
On that side, open the bleeder nipple that is located on the steering cylinder.
Turn the boat wheel to the opposite side (port), thus pumping fluid and air out of the bleeder fitting.
As soon as you see an air-free stream, then you can close the bleeder nipple.
Keep turning the steering wheel to the port side until the boat's motor comes hard-over.
Open up the port-side bleeder nipple which is located on the steering cylinder.
Turn the boat wheel to the opposite side (starboard), thus pumping fluid and air out of the bleeder fitting.
As soon as you see an air-free stream, then you can close the bleeder nipple.
SeaStar Helm Rebuild Kit
If your steering system needs more than a simple fix or refill, you can find a complete SeaStar helm rebuild kit. Using a SeaStar helm rebuild kit to rebuild your steering system is a bit more complicated, as you might imagine, so we will address that in a future post. For now, here's a video showing a complete rebuild.
Manuals
For your convenience, here are the installation instructions from the manufacturer. These are the SeaStar helm manuals.
SeaStar Helm Manuals – Front Mount Installation
SeaStar Helm Manuals – Classic Tilt Installation
Last updated on July 22nd, 2019 at 08:49 am
When you use a traditional mechanical steering system on your boat, you are sacrificing a degree of comfort. And, while there have been traditional hydraulic steering systems on the market, most are more than what is needed on lower horsepower outboard boat engines. To help bridge that gap, SeaStar developed the BayStar Hydraulic Steering Kit HK4200A-3.
The BayStar hydraulic steering kit is made by the manufacturers of SeaStar, which is without a doubt the most trusted brand in pleasure boat hydraulic steering. SeaStar Solutions Hydraulic steering has a tradition of durability and efficiency, and the BayStar Hydraulic Steering Kit HK4200A-3 embodies those same traits. The BayStar kit was built for smaller outboards of up to 150 HP. It's an ideal upgrade to mechanically steered boats under 150 HP, thanks to it's affordable price and compact form factor.
BayStar Hydraulic Steering Kit HK4200A-3 Features
The BayStar Hydraulic Steering Kit HK4200A-3 comes with many of the great features that you would expect from a SeaStar Solutions product.
• For boats up to 150 horsepower.
• Lock-to-lock of 5 turns.
• Features patented No FeedBack™ Steering lock valves.
• Utilizes a fixed cylinder.
• Can be purchased as a complete, ready to install system, or as separate components.
• Optional Tilt.
BayStar Hydraulic Steering Kit HK4200A-3 Application
The BayStar Hydraulic Steering Kit HK4200A-3 was designed for single-outboard powered vessels that are rated up to 150 HP. This also includes inflatables and runabouts. This boat steering kit is for single engine use only. The BayStar hydraulic kit is not intended for high performance, high speed type boats, such as many popular Bass Boats.
The BayStar HK4200A-3 kit allows you to install all of the comfort, reliability, and safety of advanced hydraulic steering onto your boat. This BayStar kit carries on the tradition of bringing safety and comfort to boating. SeaStar solutions combined their strict ISO quality control and their superior design team, then used the finest precision manufacturing and materials to bring you this great BayStar steering kit.
The BayStar hydraulic steering system is made up of a very low friction helm for smooth-as-glass comfortable steering, and a balanced cylinder which features a compacted design which fits most splashwells. The kit comes with two pieces of 20' cut to fit tubing and also two bottles of SeaStar hydraulic steering fluid, and also a convenient fill tube for simple fills and purges.
Please note that this BayStar steering kit is NOT designed for applications which require high steering effort (for example, high speed boats or those using high performance engines). Owners of those types of boats are advised to consider upgrading their steering system to SeaStar/SeaStar Pro steering. Steering effort is dramatically reduced due to the fact that the SeaStar steering kit provides higher output power which results in lower steering effort.
BayStar Hydraulic Steering Kit HK4200A-3 Installation
The BayStar hydraulic kit is fairly straight forward to install. If you are at all comfortable with tools and working on your boat, you might consider this as a DIY job. Of course, you can always have the kit installed at your local boat dealer. Below is a nice video from a guy who installed the kit on his boat.

BayStar Hydraulic Steering Kit HK4200A-3 Owner's Manual
Prior to installation, you will likely want to take a look at the BayStar Hydraulic Steering owner's manual, so we've made it easy for you to download. Just click on the link below.