Are you looking for the SeaStar Jack Plate?
The SeaStar Jackplate is, in our opinion, the toughest and sleekest engine Jackplate on the market. This marine performance accessory is essential and allows for higher boat speed, improved fuel economy and also enables your boat to run in more shallow water. The brand new SeaStar Jack Plate offers bold, sleek styling which is redefining the appearance of boat Jackplates.
Key Features include:
HD Jackplate uses high strength materials
Capable of handling 350 HP four stroke engines
8.5 second rapid hydraulic response
Complete rigid engine support at full thrust
Efficiently moves motor at full thrust
SeaStar Hydraulic Jack Plate Models
The SeaStar Hydraulic Jack plate implements high strength materials which allow it to handle most of the strongest boat engines out on the water. The heavy duty (HD) frames can handle four stroke engines rated up to 350 horsepower. They are engineered with durability and speed in mind and the SeaStar HD Jackplate can adjust the boat motor height by 5.8" in about 8.5 seconds. It even works while the boat is cruising at full power.
SeaStar Manual Jack Plate Models
SeaStar manual jack plate models are as follows:
| MANUAL JACKPLATE | PART NUMBER | CHECK PRICE |
| --- | --- | --- |
| 4" Setback | JP1040SS | |
| 6" Setback | JP1060SS | |
| 8" Setback | JP1080SS | |
| 10" Setback | JP1100SS | |
SeaStar Jack Plate Accessories
There are quite a few SeaStar Jack Plate accessories for sale which will greatly enhance the installation and/or performance of your system. We have a compiled the below list of all of the SeaStar Jackplate accessories.
| Accessories | PART NUMBER | CHECK PRICE |
| --- | --- | --- |
| Basic Rocker Switch | DK4020 | |
| Pro-Trim Single Function | PT1000-1P | |
| Pro-Trim Dual Function | PT2000-1P | |
| SmartStick and Gauge Kit | DK4220 | |
| Gauge and Harness Kit | DK4320 | |
| Accessory Adapter | DK4600 | |
| Hole Shot Plate Kit, 6" | HSP4060 | |
| Hole Shot Plate Kit, 8" | HSP4080 | |
| Hole Shot Plate Kit, 10" | HSP4100 | |
| Hole Shot Plate Kit, 12" | HSP4120 | |
| Jackplate Relay | DK3010 | |
| Jackplate Wire Harness | DK4420 | |
| Actuator Kit, 3/8" Mount Bolt, 5/16" socket | DK4710 | |
| Actuator Kit, 7/16" Mount Bolt, 3/8" socket | DK4720 | |
| SeaStar Stabilizer Clips, (pack of 2) | HYCL-001 | |
| Transom Plate, Small, 2" x 15" | 18-79987 | |
| Transom Plate, Large, 4" x 17" | 18-79988 | |
SeaStar Jack Plate Reviews
The most SeaStar jack plate reviews that we could find were on Amazon. Other than those, we could not locate any other SeaStar jack plate reviews online.
SeaStar Jack Plate Troubleshooting
If you are doing some SeaStar Jack Plate troubleshooting, your best bet is to check out SeaStar Solutions FAQ's on the matter, or the SeaStar jackplate owners manual. You can use these same resources for helping with the SeaStar jack plate installation.
SeaStar Jackplate Price
The SeaStar Jackplate price will vary depending upon which model you buy and where you buy it. We have found that Amazon typically has the best SeaStar Jackplate price out of all of the online retailers that we checked.
Conclusion
Regardless of where you buy your SeaStar Solutions Jackplate, we hope that you have found this page to be a valuable resource for all things relating to your Jackplate. While we obviously fully endorse SeaStar and feel that they offer the best marine products, you might want to also consider jackplates from T-H Marine or Detwiler.
Last updated on October 5th, 2019 at 11:21 am
Are you looking for the SeaStar Power Purge Jr Portable Hydraulic Steering Fill and Purging System?
SeaStar Power Purge Jr For Sale Online
The SeaStar Power Purge Jr from SeaStar Solutions makes it super easy to completely purge all of the air out of SeaStar and BayStar hydraulic steering systems. Typically, filling and purging manually can take the average experienced technician or service installer approximately 30 minutes per vessel — but by using the SeaStar Power Purge Jr. the process is reduced to about 10 minutes or even less.
Using the Power Purge Jr will reduce warranty and installation costs and also enhance the quality of your boat to you and your passengers.
Some of the main features include:
A solid steering feel every time.
It is completely portable.
Efficient and fast setup
Powered by 12v battery.
Quick connect fittings.
Fill and completely Purge in 10 minutes or less.
Contaminates are kept out or your hydraulic steering system by the filter screens.
Dual Cylinder Purging Kit HA5461 is optionally available.
The best place to find the SeaStar Power Purge Jr for sale online is Amazon.
SeaStar Power Purge Jr Parts
Since the Power Purge Jr comes with everything you need to fill and purge your system, you really shouldn't need any additional parts. However, if you end up breaking or losing part of your kit, you can find SeaStar Power Purge Jr parts for sale online on Amazon.
Conclusion
If you are looking for the best, easiest, most efficient way to purge and fill your SeaStar hydraulic steering system, then the SeaStar Power Purge Jr is the tool that you need. Nothing else can come close helping you complete the job. While the system is not cheap, if you do purge and fills often, it is totally worth the investment.
Are you looking for the SeaStar HC5345 Front Mount Hydraulic Outboard Marine Steering Cylinder?
The SeaStar HC5345 from SeaStar Solutions is the number one selling recreational boat hydraulic steering cylinder for outboard powered boats.
The Front Mount HC5345 Outboard Steering Cylinder is engineered to withstand the tough marine conditions and provides great resistance to constant compression. It features a redesigned, 8-hole new end gland sealing system for better serviceability and has been updated with Positionable Stainless Steel O-Ring (ORB) Fittings which allows for easy hose routing.
The SeaStar Solutions HC5345-3 meets or exceeds NMMA and ABYC standards of certification and is manufactured and designed here in North America. For an automotive-like driving experience with your boat, pair this cylinder with the compatible (PA1200-2) SeaStar Power Assist Pump.
The SeaStar HC5345-3 Steering Cylinder is an ideal pick for offshore fishing boats, runabouts, center console boats, and cruisers.
SeaStar HC5345 Parts Diagram
If you are in the rare situation of needing to make a repair to your cylinder, you likely will need the SeaStar HC5345 Parts Diagram, which we have provided below.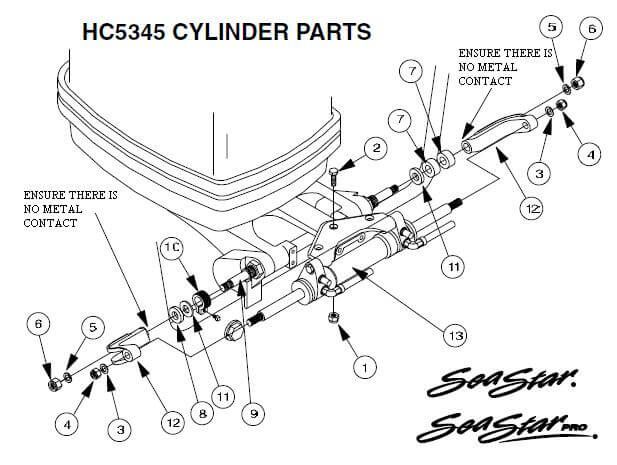 | ITEM | PART NUMBER | QTY | DESCRIPTION |
| --- | --- | --- | --- |
| 1 | 113529 | 1 | Nut 3/8" NF Nylock S.S. |
| 2 | 113222 | 1 | Screw 3/8"x 1-1/4" Hex Head S.S. |
| 3 | 731625 | 2 | Washer 7/16" dia. S.S. |
| 4 | 731720 | 2 | Nut 7/16" NF Nylock S.S. |
| 5 | 202027 | 2 | Washer 1/2" dia. S.S. |
| 6 | 192126 | 2 | Nut 1/2" NF Nylock (nickle plated brass) |
| 7 | 995876 | 2 | Spacer (Thick) |
| 8 | 996689 | 1 | Spacer (Thin) |
| 9 | 730229 | 1 | Support Rod |
| 10 | 729621 | 1 | Adjusting Nut & Screw |
| 11 | 202300 | 2 | Washer 5/8" dia. S.S. |
| 12 | 839120 | 2 | Support Bracket |
| 13 | HC5346 | 1 | Pivot Cylinder Subassembly w/Fittings (previously listed as 828000 |
SeaStar HC5345 Capacity
The SeaStar HC5345 capacity is 8.34 cubic inches. You can verify the SeaStar HC5345 capacity in the SeaStar HC5345 owners manual.
SeaStar HC5345 Seal Kit
The SeaStar HC5345 seal kit from SeaStar Solutions with part number HS5157 or HS5167 is the official OEM replacement front seal kit for SeaStar pivot / front mount cylinders. This is the kit that you need for the SeaStar HC5345 cylinder.
The SeaStar HC5345 seal kit comes with a two year warranty and the following parts:
(2) Seal Glands
Pin Wrench
Seal Gland Assembly Guide Tool
Conclusion
If you are searching for the best front mount hydraulic outboard steering cylinder, then the SeaStar HC5345 if your best bet. When it comes to price, performance, and reliability, SeaStar Solutions is tough to beat. Parts are easy to find, and the two year warranty is a great added bonus.